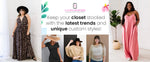 Buyers Guide for Matching Activewear Sets
Matching sets have long given off a put-together vibe and are very fashionable. Sometimes all it takes to get you motivated to get out is a nice outfit made of activewear. Let's face it, the comfort of a bed can be very alluring when you must get up really early to go to the gym. It might also be tempting to grab the wine, watch a program that you like, or do practically anything else other than spend some time exercising if you've opted to do that after work. We, therefore, require all the motivation we can get, one of them being a coordinated training outfit.
Fabric: When buying your matching activewear sets, you definitely want to consider the fabric. Cotton may feel cozy while it's dry, but it's not cozy when it's wet. Your training may be hampered or prevented by cotton since it absorbs moisture and becomes heavy and subject to chafing. Technical materials are made to resist snags, wick away moisture, and let your skin breathe.
 2. Fitting: Choosing the proper size is a good step when buying your matching activewear sets, but you should also be aware of any fit problems that can annoy or distract you. Make sure you get the size guidance provided on the brand's website before making an online purchase. It is advisable to pay close attention to the size chart because the sizes of the clothes vary from brand to brand. Otherwise, returning or swapping the merchandise may cost you extra. If buying in a physical shop, Squat in the changing room, or run on the treadmill while wearing your probable running shoes to test your active set. As a woman, you also need a bra that holds your breasts well and firmly.
Quality: Identifying the caliber of the matching activewear sets is among the most crucial issues. Only while using the product regularly will, you be able to determine its durability. In cases where you really need to purchase the activewear set, there are a number of things that you can take into account to determine whether quality assurance has been exercised. Check at the product images and features before making an online gym clothing purchase, and match up them. Additionally, visit the brand's quality page. You will learn plenty about the quality of the merchandise.
Categorically, taking advantage of women's activewear sale will save you a huge amount of money when purchasing your set because why spend a lot of money when you can save a percentage of it.