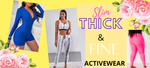 Tips for Choosing Active Leggings
Today active legging is the most popular clothing used by many women for gyms and sports such as athletics and yoga, among others. Wearing active legging comes with many advantages to women's life, such as supporting and shaping their legs and pulling the moisture away from their skin. Therefore, selecting a legging is not easy as you think, especially when buying them for the first time. There are so many considerations to put in mind for you to get the one that will be compatible with your needs. The following are tips to help you make a decision when choosing active leggings.
Fabric
When choosing active leggings, it's important that you consider the fabric. This choice depends on how you want to feel during or after exercises. The women's active leggings are made in cotton, polyester, and spandex which make them soft, moist, and wicking.
Pattern and color
When it comes to selecting the design of the active leggings, make sure that you select a design that you will love to have.
The women's active leggings come with different options of designs and colors, which make it easy for you to choose. It helps you also to choose a color that will match your outfit.
Consider the length
This is another important thing for you to have in mind when selecting active leggings. They have been designed in different lengths. The length of the active leggings is determined by your needs and functionalities.
Function
When choosing active leggings, ensure that you consider their function. Knowing the function will help you to determine the best active leggings for you.
Comfort ability
The comfort you get when wearing active leggings is an important thing that you should consider. When choosing one for yourself, make sure that it is comfortable for you. The women's active leggings are unrestricted and very soft. When exercising, it gives your leg a free move, and the skin feels exhilarating, giving it a neat appearance.
Women's activewear leggings
help you to reduce pain and discomfort after exercise. They increase your performance in lifting, swimming, and running, especially for long-distance runners and difficult yoga postures. Wearing it in cold weather help to keep your muscles warm, which eliminates the risk of injury and keeps the legs healthy. It also increases the flow of oxygen in your entire body.